About us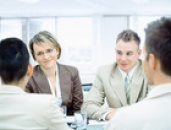 Our firm provides consulting services concerning the legalization of work and stay of foreigners in Poland.
We cooperate with private persons, as well as with the companies, that employ staff from abroad.
If you do not know, what are your rights and obligations, if you feel confused with the current legal regulations, if you do not have enough time or simply do not like queuing and dealing with complicated formalities – our offer is just for you.
We will complete the forms, submit the applications and monitor the course of the whole administrative procedure for you.
We will remind you about the need to prolong your work permit or residence card and inform about changes in legal regulations, that can be important for you.
We speak Polish, English, Russian, Armenian and Chinese
Don't hesitate to contact us and make an appointment for the consultation:
Complete the contact form,
call us (+48 513 010 014)
or e-mail us info@expatcenter.pl
---